tuesdays: bunker
large and stylish bar on Bath Street playing indie / rock and a smattering of mainstream favourites seven days a week. on tuesdays toast plays from 9pm - 1am



wednesdays: tongue In cheek
room 1: gavin sommerville with the best in RnB and Hip-Hop
red room: andy wilson rockin' indie
the lounge: dj toast with party classics and electropop
every wednesday from 10pm
FREE ENTRY before 11pm, or before midnight with matric card. All drinks at ONE POUND



thursdays: eureka!
toast plays the freshest hip hop and RnB plus a few classic jams in a MOBO theme, with robin b playing electro, indie/rock, and pop
All drinks at ONE POUND



fridays: cheesy pop at the QMU
put simply, fridays ARE cheesy pop - it's scotland's biggest and longest-running student night,
with a unique music policy that ranges from Kylie to Rammstein, and from James Brown to The Prodigy.
door and drinks prices to suit students' beleaguered finances.



saturdays: bunker
toast returns to bunker for the weekend, playing indie rock and guitar classics from 8pm through til 3am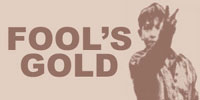 www.fools-gold.net
Information on the weekly indie night Fools Gold formerly on Tuesdays at various venues across Glasgow, at which
DJ Toast, Paul and Mel played a screamfest of Rock n Roll classics from The Beatles / Rolling Stones / Hendrix / Doors
through to Madchester sounds of The Happy Mondays, The Stone Roses etc and more up-to-date fodder from
The Killers, Franz Ferdinand, Kaiser Cheifs, Arctic Monkeys, and so on. Good times.